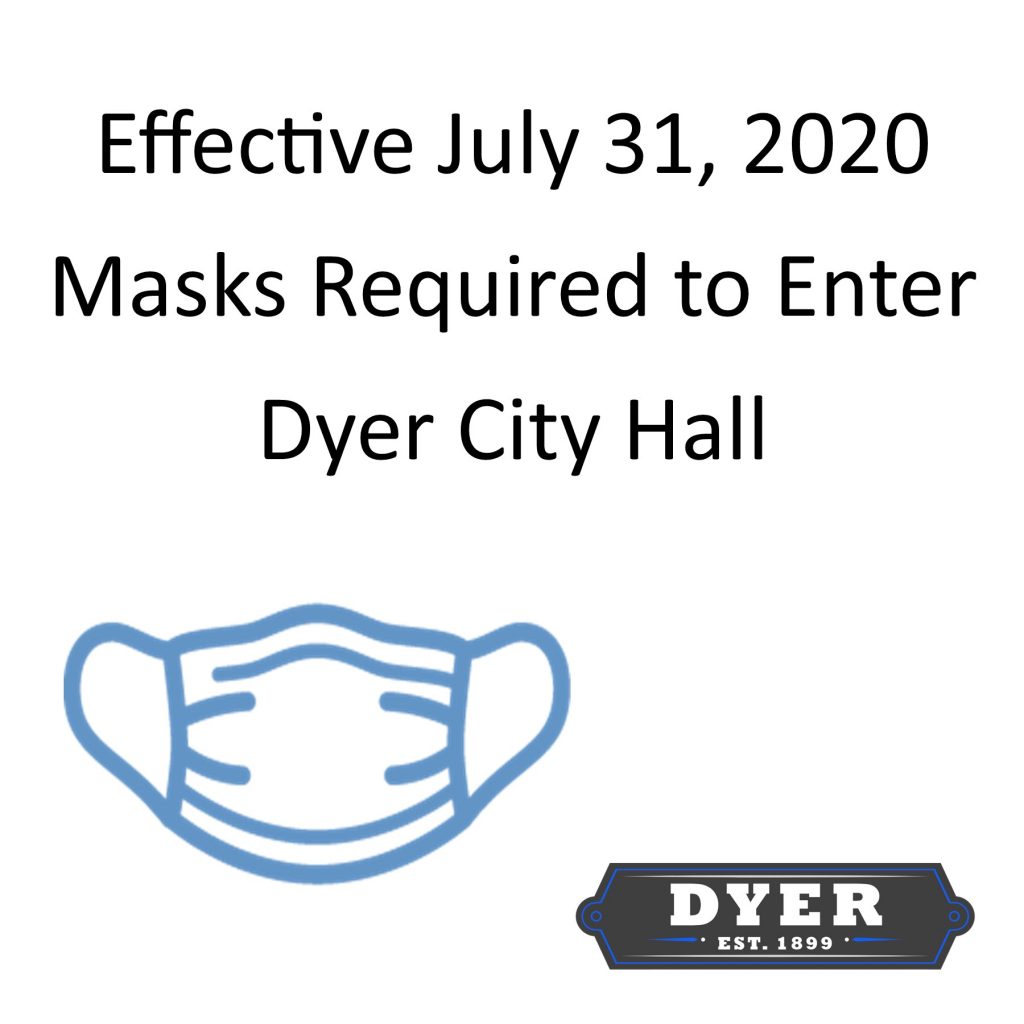 Due to the increasing number of cases in our community and out of concern for the safety of our residents and staff, effective Friday, July 31, 2020, masks will be required for anyone entering Dyer City Hall. This includes those conducting business or attending meetings. We want to keep city hall open, and your compliance will allow us to do so. The drive-thru window (entrance on Main Street) continues to be open, and we encourage you to use it for minimal contact transactions.

What else are we doing to protect residents and staff and to keep our public services operating?
Those entering City Hall are asked to use the Main Street door and to exit using the College Street door (this prevents visitors from passing or interacting with one another unnecessarily).
Reminder stickers are placed on the floor to encourage adequate physical distancing.
High-touch areas are being regularly sanitized and cleaned.

"Stay strong and protect our mothers and fathers our grandmothers and grandfathers. Let's protect those that protected us as we were growing up. I was taught to respect my elders and now I'm going to protect my elders. Working together makes all the difference."

Mayor Chris Younger
This virus continues to impact our community, and as the weeks have passed, it is becoming more and more personal as our friends and neighbors have become sick, some seriously. We know that some groups, including older residents, are particularly vulnerable, and so we ask you as go about your daily activities to please make an effort to help protect all our neighbors by maintaining an adequate physical distance, washing your hands frequently, and wearing a mask when appropriate. Mayor Younger said on Thursday, "Stay strong and protect our mothers and fathers our grandmothers and grandfathers. Let's protect those that protected us as we were growing up. I was taught to respect my elders and now I'm going to protect my elders. Working together makes all the difference."