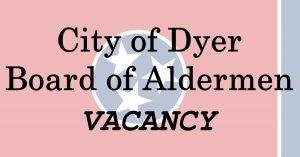 The Dyer Mayor and Board of Aldermen are seeking candidates to fill an unexpired term on the Dyer Board of Mayor and Aldermen. This unexpired term expires on December 31, 2022.
Interested parties should submit their names on the provided form (below).
Applications / nominations are due at City Hall by August 30, 2021 at 4:30 PM.
Download the application: Alderman Vacancy Application
Frequently asked questions
How often does the board meet? What are the time commitments?
The Board of Aldermen meet regularly on the 2nd and 4th Monday of each month. Committee meetings are sometimes held on other nights as well. Meetings can last from 30 minutes to 4 hours.
Should I have concerns about conflicts of interest?
Certain conflict of interest regulations might impact some individuals, especially local business owners. For questions about conflict of interest or ethics considerations in serving on the Board of Aldermen, please contact the City Recorder.
Are there other considerations?
Members of the Board of Aldermen are required to submit annual financial disclosures to the State of Tennessee. These disclosures are non-invasive and fairly routine. If you have questions about required disclosures, please contact the City Recorder or the Tennessee Ethics Commission.